BIGBEN2000 Practical Navigation solutions for multipurpose&nbspuse&nbsp

EXAMPELS OF DIFFERENT INDEPENDANT SYSTEMS see further down
An independant system to me means that you can use own maps and utilize the enormous possibilities available on the internet to get maps and not to be forced only to GPSmanufacturers maps as for GPSmap versions.
HIGH TECH 2007- 1


Make your Navlife easier with less equipment!! -Smartphone Nokia E60 and Fortuna Slim BT GPS an excellent navcompanion -this combination outstanding for multiusage- If you prefer a Smartphone with built in GPS Nokia also has this and you have only one piece -but this system is more flexible in usage as Gps can be up to 10 meters away if necessary!!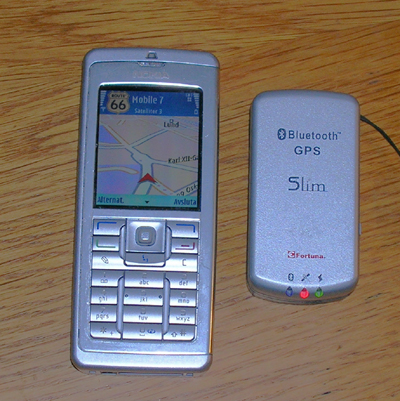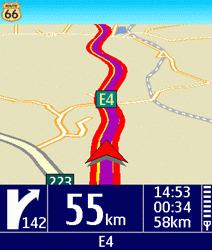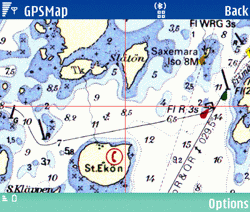 A winning combination A good Route software An independant mapmotor
Just calibrate your mappics!!
HIGH TECH 2007- 2
A rugged PDA with built in SirfIII GPS perfect outdoor and a good companion at sea!!
You can use the same softwares which can be used for the IPAQ described on this site .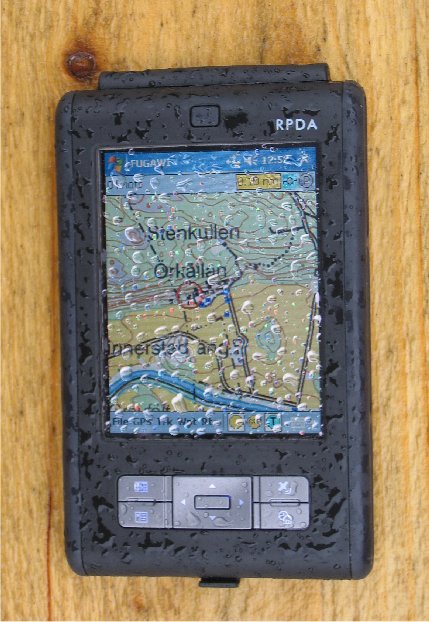 pic origin Soltek
Good Tech and still very useful equipment from yesterday
Fortuna Clip on BT GPS and HP IPAQ 2210 bluetooth-connection also an outstanding combination from yesterday for multiuse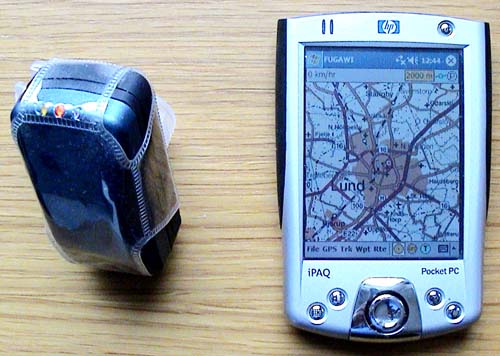 This system with bluetooth works excellent and practically never looses the fix due to probably the most sensitive GPS on the market with two positions of sensitivity available for the GPS- The PDA has two slots for memorycards SD and CF and is perfect as you often have both types of cards available in earlier versions of GPS eg Navman. Both units has easy rechargable Li-ionbatteries and could be charged during operation eg in a car or a boat. Battery-time 8 hours for GPS and up to 12 hours for PDA- depending on screenset and active use, Excellent screen with a slight tendency to reflexion in bright sunligt -if screen covered with antireflex film almost the same good standard as IPAQ 3870 in sunlight.My navssytem uses Fugawi and Tom Tom2 and its easy to switch over during operation with no complications.
A second hand Ipaq h2210 is a good partner to the Fortuna-( also IPAQ 3870 and 3970 works good with the Fortuna GPS)
This system is much better in my opinion than the Palm based Garmin IQue3600 in many aspects
1 GPS-sensitivity point of view getting a fast FIX under severe conditions --no problems in a car in the city where you really need it!
2 .Its more independant to various software iQue does not use NMEA standard which means you cannot use all the mapsoftwares available until 3party software has adopted it or been developed. It does not have bluetooth-If you want an easy connection of the PDA for mailing via your mobile.
3 Pricewise If you buy a secondhand Ipaq even if you buy a new one its worth to pay a little more for the GPSadvantages go get with the Fortuna GPS according to my opnion The Ipaq h 2210 is perfect as it has exchangeble batteries and 2 different memorycards which make an upgrade from eg a Navman-Ipaq system much cheaper as you can reuse memorycards.
4 ipaQs have the reputation to be the "Rollce Royce" among PDAs famous for excellent screens- although the Palmscreens has become better in later versions so the difference is smaller on later versions but visible on iQue according to reports in discussionsites on internet.
IQue has some advantages
1 A better Routesystem- if you need it -I mean really need it in your profession eg being a taxidriver- most people has a small need for a routesytem and when you need one TomTom , Navmans system or Destinator is more than OK for you.When reading reviews and forums dedicated people put attention to small differences but in practical use for the normal user my opinion is that you can forget it- The Driver is the captain anyway and decides if maps or routes sometimes gives wrong direction- NO PROBLEMS!
2 GPS and PDA are integrated in an iQue which makes it simpler for the nav novice-It can be a little tricky for a beginner to undertstand bluetooth connection anf get the ipaQ and Bluetooth GPS to cooperate- but when you know- its no difference. Navforums available give often excellent support- so do not worry!
IF YOU ONLY should use a voice routesoftware and you want the best- GO FOR iQue and invest also in an external antenna which you need in bigger cities to keep the fix when high buildings are shadowing the sats It is a very good routing system acc to reviews made.
PRICECOMPARISION Ipaq/bluetooth and Garmin iQue-system
LOW TEMP WARNING The newer Ipaq 55XX with removable batteries (Li-ion-polymer 1300 mAh)does not charge below 0C It has a specification saying operating temp between 0C and +40C (earlier models -20C-+40C) - If you try to charge the battery at temp lower than 0C a warning sign blocks the display - Acc to Ipaq support its done so to protect tha battery when charging in too low temperatures.According to userreports the Ipaq works alright with batteries at lower temps than 0 C. Heating devices are recommended when using a PDA in the wintertime on snowmobiles see exampel under Installations (for Palm lllc),Thisproblem has not been reported for the earlier models 38xx - 39XX.
IPAQ 2210 has a removable battery Li-ion- (900mAh) and works with charging below 0C I have tested and charging works alright at abt -20C. By putting it into a freezer at -25C a couple of hours and after that started charging directlly without any difficulties and it found also the fix with the GPA activated and no troubles with the screen at that temperature either.
Earlier versions (36XX 38XX)with Li-ion batteries has been used frequently on snowmobiles without any problems - but be careful!!
NOTE The spec says operatingtemp above 0C (32F) -so its recommended by HP to operate it above 0C and also be aware of moisture.

OTHER SYSTEMS Experiences reportedas a WARNING

The combination Ipaq 5450 -GPS Emtacbluetooth and Fugawi is reported to give delays in positions from several users- 3- 400 meters delay at low speeds (sailing boats)
It is not clarified which part is misfunctioning yet it can be the Ipaq it can be the Emtac GPS
BIGBENs advice if you are going to buy new equipment-go for other well experieced stuff - Ipaq 2210 is cheaper and has a lflexible memorycapacity and is efficient enough- Fortuna Bluetooth is best in its class if you always need a fix( deep in forest and at narrow streets with highrises around) and Fugawi is excellent-
OLDER BUT STILL GOOD SYSTEMS with certain limitations though
If you are a beginner try to get hold of used parts to it its always avaiable on auctionsites or trading sites- its a cheap way to start the learning and find out whats best för you- All these systems I have sold out at such sites when upgrading.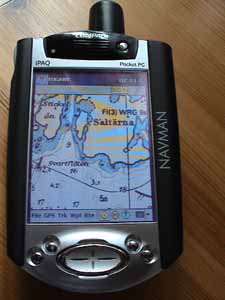 Mapshow in IPAQ
Together with Fugawi software a Pro solution with high memorycapacity 2 extra memories/ SD and CF cards/. The IPAQ display very good in bright light compared to present PalmPDAs which are hard to read in direct sunlight (june 2002). Navman charged through IPAQ by 12V charger-

Disadvantage :Stand alone only 2 hours navtime in batterycapacity - you need batterybacup options in the field if you do not operate the navsystem through a 12V system in the car or boat
A GPS Navman350 clipped on a Palmlllc a unit easy to handle and mount . A very handy an well functioning solution
Navman GPS can be found to both Palm and IPaQ PDAs all models. The same software as above can be used-Disadvantage is that Palm cannot be charged at the same time as Navman when charging 12V .Any Palmlllc with minmum of 8Mb memory required-
PalmVx + handheld GPS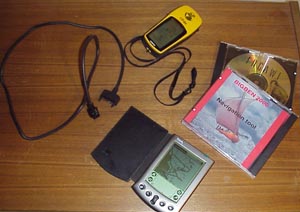 +
PalmVx and a Garmin etrex a cable Fugawi Software and a Bigben supportCD mapmaking and PDA navigation
Limited memory for maps- rather easy to make maps- works accurate from maps in Mercator-projection - poor on scanned and calibrated roadmaps due to"twisted" mapprojections in northern latitudes- smaller parts of maps work better than big maps covering a big area
A priceworth startsolution is
An excellent mapsoftware for windowsbased PocketPc and also Palm .Even if it needs some work to be done to make maps for the the PDA .You require a picture-software to turn maps to north and needs calibrationdata which can be found on the internet. In northen latitudes is the accuracy not so good in big maps as particurlarly roadmaps are twisted and curved. Charts normally in Mercatorprojection is OK calibrated in all sizes.
also ATLAS palm mapsoftware from
and you also here use own mappics
Both these softeare could beused with of a secondhand Palm which could be bought cheap on auction sites
Simple GPS with NMEA output without display together with Palmlllc
use CETUS GPS freeware here showing on Palmdisplay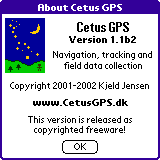 Useful site for most available systems on the market
349040210